14 years ago, I had a special student named Corey in my 4th-grade classroom.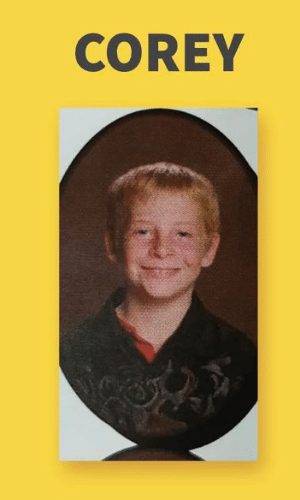 This is his 4th grade picture from when he was in my classroom.
Corey came from a very trauma-filled background where he didn't get support or his basic needs met because his mother struggled with addiction and his father was absent from life.
He came to school most days hungry and belligerent about doing any kind of "schoolwork." But at the same time, he was afraid to leave our classroom on Fridays because of the lack of food and electricity in his trailer.
But I learned Corey's story that year, the story behind his behavior, and I also saw that behind this Tasmanian acting devil in my classroom was simply a boy who needed to know he was safe, valued, and loved. A boy who was pleading to be seen and understood and who needed a lifeline.
Corey left my classroom that year, and he had written a letter that is one of my most prized possessions to this day.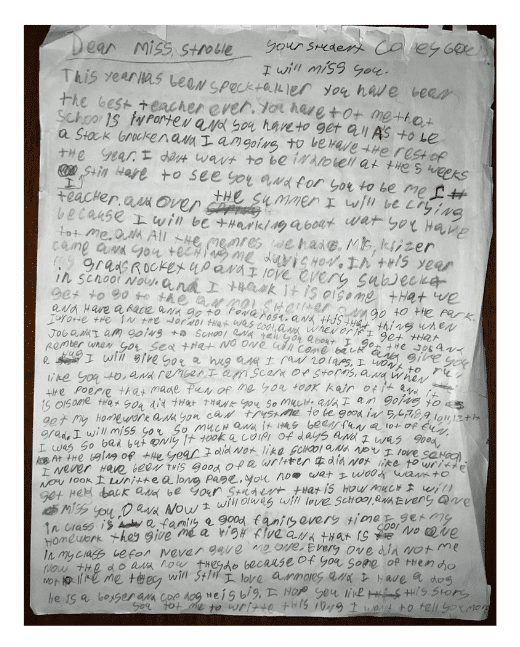 Corey's had so many obstacles in his life path, and for a while, each obstacle seemed to grow bigger and bigger, and somehow his life became even more difficult. 
But Corey has something incredible inside of him. He has will, determination, and drive. He has the unique ability to overcome all obstacles.
He's just one of those exceptional human beings who is filled with goodness, heart, kindness, and the ability to push through challenges and adversities and reach for a life that is designed by him.
I've had the honor of staying in Corey's life since he left my 4th grade classroom. And this honor has changed my life.
Corey provided me with one of the most valuable teaching moments of my career, and I believe it is one of the reasons the trajectory of my teaching career changed and my education business began.
By the way, he is the star of one of my keynotes, and his story gets told to thousands across the country.
This past Saturday, Corey graduated from The University of Southern Indiana with a Health Services Degree. Watching him walk across the stage was such a magical moment because I knew what it had taken for him to get this far.
Corey continues to demonstrate to me that we can do hard things. We can reach for more in our lives, regardless of our past. We can achieve anything we wish in life or go anywhere because we have the opportunity or ability to do so.
Corey is engaged to be married to his high school sweetheart this August, and he's got so much to contribute to this world. I cannot wait to see how he serves others with his special gifts.
That 4th-grade year, I thought I was Corey's teacher, and I'm sure I was, but he was also one of my biggest teachers in life, and to this day, he influences how I show up for teachers and how I want to help them impact and influence the students they teach.
For any teacher reading this, it's so easy to get lost in the fray of feeling like we aren't enough as teachers. It's easy to walk out the doors and let our inner critic roar.
It's easy to feel frustrated with the overwhelming demands and expectations placed upon us.
And it's easy to let the pressure of students' academic success or failure outweigh the need to prioritize strong relationships.
Don't get me wrong, being a teacher is absolutely one of the most rewarding and incredibly meaning-filled careers out there. But it is also a difficult and all-consuming profession that requires a very special and skilled individual.
Teachers are never just teachers. They wear multiple hats all day long.
It's so important to understand how truly important our job is and to know we are given the opportunity each day to make a difference in the life of a child.