Organizing an educational event can be a challenging task, especially when it comes to securing the perfect motivational speaker to captivate, inspire, and guide your audience.
The right speaker can have a profound impact, setting the tone of the event and leaving attendees with a wealth of knowledge and fresh perspectives.
In this blog post, we'll provide you with helpful tips that will begin to guide you through the process of booking the ideal speaker for your event.
From conducting effective speaker research, understanding the costs involved, and knowing what questions to ask in your initial conversations—this blog has the answers to your burning questions and in the form of 8 expert tips to guide you through the process.
8 Tips for Hiring Your Next Education Event Keynote Speaker
Finding the perfect keynote speaker for your educational event requires thoughtful consideration and research. Read on to gain valuable insights on how to approach your search efficiently and effectively.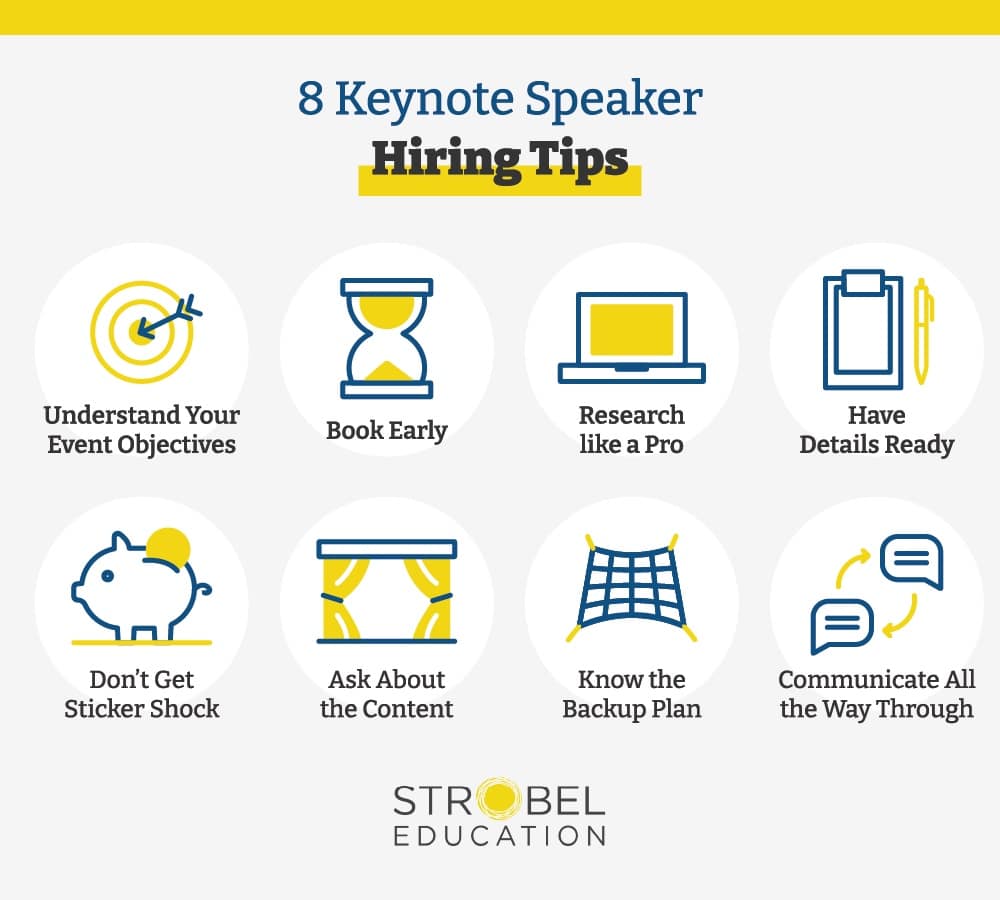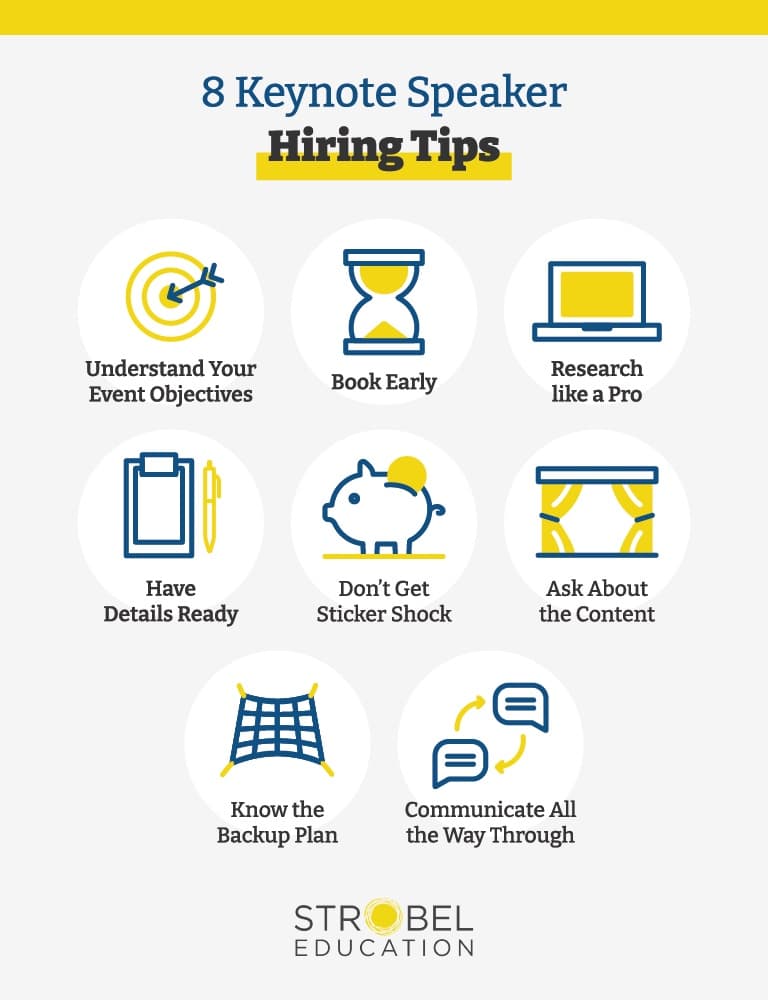 Tip #1: Understand the Objectives of Your Event
To hire the perfect speaker for your education event, you must first have a clear understanding of the objectives.
This involves defining the purpose and goals of the event. Whether it's to motivate, influence, educate, entertain, (or all the above), identifying the desired outcome will guide your speaker selection process.
In addition, you should take into account the needs and interests of the attendees. This includes their demographic information, professional backgrounds, and educational needs.
A speaker who can address these factors will have a greater impact and leave a lasting impression.
Lastly, determining the role of the speaker in the event is crucial. Will they be delivering a keynote speech, conducting a workshop, leading a panel discussion, etc? The nature of their participation will influence the kind of speaker you need to hire.
By understanding these aspects, you'll be able to select a speaker whose expertise and delivery style align with your event's objectives.
Tip #2: Book Your Speaker Early
How soon you should book someone for a keynote speech really depends on the speaker's popularity and availability. However, as a rule of thumb, it's typically best to start the booking process at least 4-6 months in advance. But, if possible, it's best to at least begin the search 6 months to a year in advance. This allows ample time for negotiation, preparation, and promotion of the event.
Let's dive deeper into some of the advantages of booking a speaker early:
First of all, it increases your chances of securing the speaker you want. Popular speakers tend to have busy schedules, and their availability can be limited. By reaching out early, you have a better chance of securing their services before someone else does.
Secondly, booking early allows for better negotiation opportunities. Speakers may be more willing to negotiate their fees or accommodate specific requests when they have more time to plan and prepare for the event. It also allows you to secure any necessary travel arrangements or accommodations if the speaker is coming from out of town, which can in turn, mean lower travel costs as those costs also increase the later you wait to book.
Lastly, booking early gives you more time to promote the event and generate excitement among your target audience. By announcing the speaker well in advance, you can build anticipation and attract a larger number of attendees.
Tip #3: Research Potential Speakers like A Pro
Identifying credible sources to find potential speakers is crucial.
These sources may include online searches, educational associations, speaker bureaus, professional directories, or recommendations from peers in the education field. It's also beneficial to review the speaker's online presence, such as their website, social media profiles, and any available videos of their previous talks.
When evaluating potential speakers, consider their expertise and how relevant it is to your event's theme. A speaker's background and knowledge should align with the purpose and goals of your event.
Also, ensure the speaker's style and approach fit with your audience. For instance, a speaker who uses humor and interactive elements might be a great fit for a student event but less so for a serious professional development seminar, depending on the climate of the function.
Look for experienced speakers who specialize in various topics related to education and professional development.
Tip #4: Have the Critical Details Ready
When you've identified potential speakers for your event, the next step is to reach out to them.
Keep your communication professional and clear, outlining briefly the purpose of the event, the expected audience, and the role you envision for the speaker. Be sure to also include practical details such as the date, location, and duration of the event.
Once initial contact has been made, it's time to discuss the event in more depth.
Share your event objectives and the speaker's role in achieving them. This conversation should also cover the speaker's content, style, and how it aligns with the event theme and audience.
Tip #5: Don't Get Sticker Shock
Speaker fees can vary widely depending on the speaker's expertise, fame, and demand. It's important to budget appropriately and remember that high-quality speakers often command higher fees. However, investing in a well-suited, impactful speaker can significantly enhance the value of your event.
During the vetting process, be prepared to discuss your budget and understand what the speaker's fee includes, such as travel and accommodation expenses, preparation time, and any post-event activities.
It's also acceptable to discuss negotiations for fees and conditions. Negotiation is not always about reducing the cost. It's about ensuring both parties feel the agreement is fair and beneficial.
Being respectful and understanding of the speaker's value and their needs can foster a positive relationship that contributes to the success of your event.
Always confirm the agreed terms and conditions in a written contract to avoid any misunderstandings later on.
Tip #6: Ask About the Content—During and After the Event
During the event, the speaker should be interactive and engaging, helping to maintain a high level of interest among the attendees. This can be achieved through a variety of methods such as Q&A sessions, interactive activities, or by utilizing storytelling techniques in their presentation. Understand what the keynote speech will entail and make sure it aligns with your goals and objectives. Furthermore, look for a speaker who can create a customized approach to the presentation and/or training session based on your specific needs.
The speaker's role doesn't end when they step off the stage. Perks such as planned post-event activities, and being available for additional questions or networking, can add a personal touch and enhance the overall experience for attendees. During the vetting process, ask the speaker if they have any post-event resources related to their talk that extend the value beyond the event.
Tip #7: Know the Backup Plan
Unforeseen incidents do occur in the planning and execution of events. Cancellation or postponement due to things like illness, flight issues, or death in the family (from either party) is always a looming possibility for event planners to consider.
When vetting potential speakers ask what their postponement or cancellation policy is. Ask if they have a standard backup plan if these instances occur. This could include things like an alternate speaker they have on standby or a pre-planned backup activity that aligns with the event's objectives to fill the allotted time.
When reviewing any contractual agreement, see if there is any type of cancellation clause in the speaker's contract that protects both parties.
Tip #8: Be Prepared to Communicate Up Until the Day of the Event
It's essential to not only provide the speaker with all necessary event details during the vetting process but to also communicate any changes or updates to those details after the keynote speaker has been selected.
This can include details about the audience demographics, number of attendees, event objectives, and preferred topics. Keeping the speaker in the loop will enable them to modify or tailor their speech and/or planned activities appropriately, ensuring a resonating and effective presentation.
Why You MUST Consider Kim Strobel For Your Next Event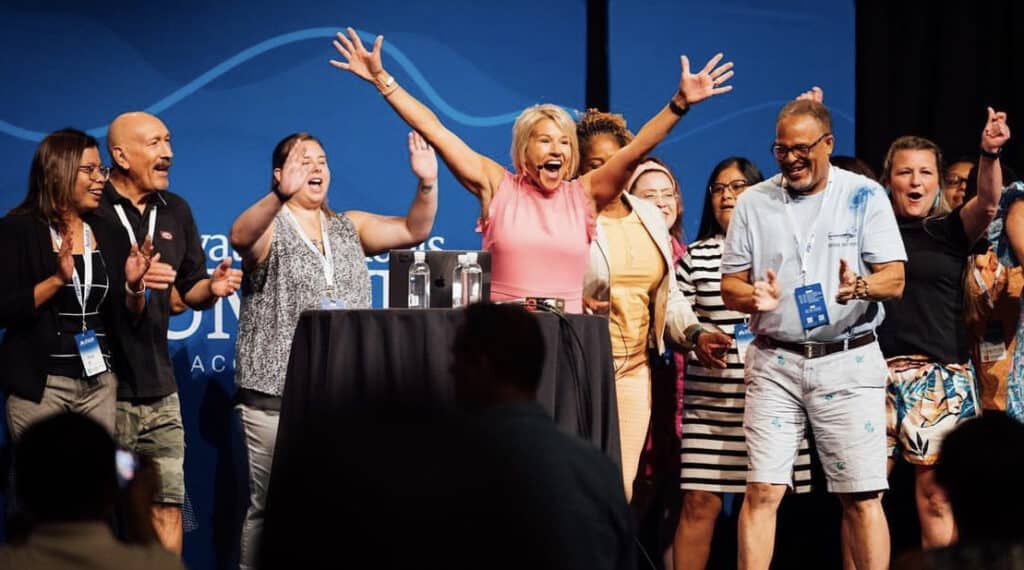 Strobel Education offers a range of services to ensure the success of your educational organization, including keynote speeches, workshops, and other professional development activities.
Our team is committed to understanding your event's objectives and the needs of your audience. This allows us to suggest the right solutions for your event's theme and audience.
Kim Strobel is a speaker and happiness coach who has served thousands of teachers, administrators, superintendents and students all over the world. She has spoken at a wide range of educational speaking engagements such as the United Nations Global Happiness Summit, The Google Education Summit, and the STEM Conference.
Her keynotes are not limited to just educational events, she has a wealth of experience in speaking and training at corporate events as well—and she's performed her speeches both virtually and in person at Fortune 500 companies, schools, and conferences.
Ready to Ignite Your Audience? Talk to Kim Strobel About Your Event Today!
Securing the perfect speaker for your event doesn't have to be a daunting task.
With the right approach, resources, and knowledge, you can easily find a speaker who aligns with your event's objectives and audience needs. Remember, the right speaker can significantly enhance the impact of your event, driving engagement and delivering valuable insights.
Kim Strobel is an experienced keynote speaker who is committed to understanding the requirements and goals behind your event. She is incredibly passionate about what she does and motivates her audiences to take action with tips and tricks that can be executed as soon as they leave the auditorium.
Pick up the phone and start the discussion with Kim Strobel about your next event. With Strobel Education, you don't just get a speaker; you get a partner dedicated to the long-term success of your event and your organization as a whole.
Don't hesitate to reach out. Let's make your next event a truly memorable one, together.